Valencia is an impressive region and city on the East coast of Spain
Valencia is an appealing city on the east coast of Spain full of impressive Baroque, Gothic and Moorish architecture, a stunning Arts and Science centre, no forgetting a warm and sunny climate.
Valencia is now a  buzzing Mediterranean city awash with plenty of things to do and see plus the city boasts some fine beaches including the Las Arenas and Las Malvarrosa which are easily reached by bus from the town center.
We have compiled a comprehensive Spain travel resources page to help you plan and book a trip or holiday to Valencia with a  budget busting hotel search comparison platform, travel insurance, low cost flights, discount car hire, tours, excursions as well money saving travel and holiday deals.
5 interesting facts about Valencia
Valencia claims to be the home of the national dish of Paella using the original ingredients of saffron rice, chicken, rabbit, snails, beans and artichokes. There are now more than 200 variations on this dish, and we certainly aren't going to argue about its origins!
Your camera will get a work out in Valencia city with its unique fusion of architectural styles ranging from Gothic to funky modernista.
The Ferio de Julio festival is extravagant even by Spanish standards and every July the city becomes a blaze of colour and light. When the papier mache 'fallas' figures are burned it seems as if the entire city is one fire, a sight you really shouldn't miss.
L'Oceanogràfic is the biggest aquarium in Europe and the underwater restaurant offers you the unique chance to dine next to all manner of sealife.
Valencia is the only Spanish city to have 2 American football teams; the Firebats and the Giants. Both compete in the country's LNFA Serie A and the Firebats have won the national championship 3 times.
Historic Valencia
Valencia is also home to some fine historic buildings including Valencia Cathedral which is located in the old quarter and is reportedly home to the Holy Chalice or the holy grail.
El Micelet is a tower attached the cathedral and a great place to sharpen up your appetite by climbing up the 207 steps to the top where you are rewarded with spectacular views over the city.
The Santa Catalina church tower is also located in the old quarter and is a famous land mark in the area located near the town hall plaza. Another stunning building is La Longa where the silk merchants once plied their trades.
The city of Arts and Science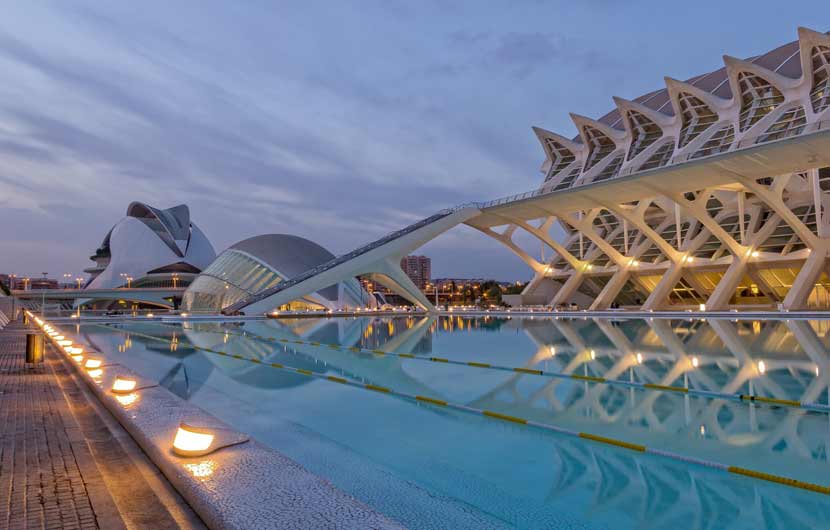 The most popular attraction at the moment is the City of Arts and Sciences located at the end of the Turia Gardens just a ten minute walk from the beach and marina.
The centre is home to a fascinating Aquarium which houses the largest marine and aquarium park in the Europe, the stunning aquarium building was designed by Felix Candela and is reminiscent of one of Gaudi's impressive works.
As well a housing the Aquarium the City of Arts and Science is this truly a modern and inspiring complex with a planetarium, science museum, botanical gardens and the grand opera house.
The aquarium though is undoubtedly the most popular attraction, divided into sections it represents the whole spectrum of the sea environment boasting almost 7.500 species to explore within several smaller aquariums.
The Oceanographic centre is situated mainly underground and houses the wetland areas and mangrove swamps with the Arca de Mar zone dedicated to the species under threat of extinction. It also has an impressive arctic space within an igloo and is where marine biologists monitor walruses and whales among other species. There is also a large colony of penguins which are great fun to watch during feeding time.
The Dolphinarium is the largest in Europe with a seating capacity for over 2.000 people and holds around 23 million litres of water !. As you would expect the Dolphinarium provides great entertainment for all the family.
And when you are ready to eat you can do so in the impressive submarine restaurant and gaze at the marine life placed in tanks which surround the dining area.
Oranges from Valencia
It's not all paella and tapas, Valencia is famous as for its orange production which also plays an important part in the local diet, obviously some freshly squeezed orange juice is a good place to start.
You might be surprised to know that a traditional dish originating from the region is Pato a la Naranja – or duck with orange sauce, is not just a reserve of the French as the Valencians have perfected their own version.
If you have not heard of horchata before, you are unlikely to be able to escape it while in Valencia, originating from the introduction of tiger nuts by the Arabs, the fruit is mashed up and made into a drink which is served ice cold. This popular sweet, milky drink is often served at breakfast and accompanied with fartons, another local delicacy of long finger-shaped glazed buns.
The central market
A must visit is to the beautiful Central Market ( Mercado Central ) one the largest in Europe and where you will find a vast array of local and national produce on offer from fresh fish and seafood, Spanish cured hams to clothes and bric-a-brac… a great place to simply browse or pick up a holiday bargain or two.
Undoubtedly the best market for food, you will find delights such as wonderful cured meats – jamon iberico being typical of the region; delicious cheeses, such as the local goats milk cheese, Autor; and an abundance of fruit and vegetables such as the local oranges and artichokes. Constructed in 1914, the market itself is a sight to behold, with its ornate "gothic modernist" architecture adorned with glass, ceramics and tiles.
Traveller Tips
Valencia Airport has connections with many of the major European countries and is well served by a host of travel links.  The AVE high speed train runs out of Valencia, there is an excellent bus and train service to all of the main cities around Spain as well as good motorway links if you plan to hire a car.  Valencia also has its own Metro so getting around the city is easy and reasonably cheap.
Valencia is home to the famous "Las Fallas" festival
The month of March in Valencia can mean only one thing – the world-famous Fallas celebrations are back for another year, the Fallas de Valencia  are among the most popular festivals in Spain, attracting hundreds of thousands of fiesta lovers from all over the globe.
These spectacular festivities last a full five days and there are a number of different events that the whole family can enjoy, including the best local cuisine and culture, dancing, live music and fireworks. The party carries on late into the night, and the local area of Valencia offers a beautiful backdrop for this unique annual celebration.
The processions are quite spectacular with the huge figures depicting famous people, celebrities and historical events, while others have religious significance.
Gastronomy and eating out in Valencia
Try the popular dish of Paella
With Valencia famed as the founder of the paella; tourists travelling to taste this traditional dish will not be disappointed. It was the Moors who introduced rice to the region, way back in the 8th century; so there is a long history of cooking rice and cooking it well. Crucial to the authenticity of Paella is the way it is prepared: in a paellera – a large pan – and over a wood fire.
Paella purists will tell you that there are in fact only two types of paella: Paella Valencia (with chicken) and Paella Marinera (with seafood). Both must contain Spanish rice, olive oil, saffron and tomatoes to be the genuine article. Naturally however, there are a myriad of variations, in addition to other rice dishes on offer.
Once you have had your fill of paella, you might like to try other popular local rice dishes such as Arroz Negra (made with squid and blacked with its ink) or Arroz Con Costra (featuring a baked egg crust – or costra).
Tapas in Valencia
Tapas is by far the best way to taste your way around Valencia. Although not actually a traditional custom of the city, in reality tapas is served all over. Deriving its name from tapa – meaning lid – tapas originated as a way of keeping flies out of ones drink and soon evolved into the series of small snacks or dishes it is today.
Popular tapas bars in Valencia include:
» El Camerino Taberna - Calle Cura Femenia 16.
Website: http://elcamerinoruzafa.com
» Casa Montana - Calle Jose Benlliure 69.
Website: http://www.emilianobodega.com
» Restaurante Taberna Jamon Jamon. Calle Bolseria 36.
Website: https://www.tabernajamonjamon.com/
» Sagardi Valencia Centro. Calle San Vicente Martir, 6.
Website: http://gruposagardi.com/
» La Fabrica. Calle Cristo del Grao 14.
Website: http://www.lafabricarte.es