The Gastronomy of Spain
The gastronomy of Spain is as rich and varied as the country itself, boasting quality ingredients, an excellence in cooking and wise old traditions, these are but a few reasons why the gastronomy is one of the top reasons for visiting Spain.
To define Spain in terms of food items is simple, take some olives, extra virgin olive oil, fresh vegetables, garlic, chicken, fish, seafood, Iberian cured meats and great wine and you are summing up the essence of the main gastronomic ingredients of Spain.
When you arrive in Spain for the first time, hopefully you will want to explore the tastes on offer as it offers so much more then Paella and Sangria.
The Gastronomy of Spain is extremely diverse and ranges from the famous tapas small dishes to some of the best local and regional cooking available anywhere in the world.
Spain is home to some fo the best chefs in Europe, San Sebastian alone is home to over 13 Michelin starred restaurants.
Eating Out in Spain
A great way to explore the gastronomy of Spain is is eating out and sometimes the smaller hidden bars and restaurants frequented by the locals the places to go
You are sometimes more likely to encounter authentic local dishes at lower prices if you head to off the beaten track bars and restaurants where the locals hang out.
Eating out in Spain is a real treat and generally very good value for money.
Breakfast
There is much to chose from when it comes eating breakfast in Spain. The coffee is second to none and is  great accompaniment to most breakfast foods.
The top things to eat in Spain for breakfast include:
Cafe con leche ( Milky coffee )
Pan con tomate  ( Cured ham, toast, chopped tomato and olive oil )
Chocolate con Churros. ( Deep fried Pastry with a very thick chocolate sauce)
Croissant Tostada ( Toasted Croissant )
Pinco de Tortilla ( Tapa of Spanish tortila )
Huevos fritos con chorizo ( fried eggs and chorizo sausage )
Zumo de Naranja ( Freshly squeezed orange juice )
Tostada con Aceite ( Toast and olive oil )
 Pastel con cafe ( Fresh cake/pastry and coffee )
Menu of the Day
A good option to discover the gastronomy of Spain and eating out during the day is the so called ''menu del dia'' – menu of the day.
The daily menu is usually displayed outside the restaurant or bar, and will typically show  two or three courses and drink. Prices  range from 7 to 12 euro/person varying depending on the category of the restaurant.
It is a good idea to confirm before eating out in a restuarant if the  "pan, postre y vino" (bread, dessert and wine ) is included in the menu), this will ensure you do not receive any unwelcome additions to the final bill.
Tapas
Spain is of course home of those famous tapas, small plates of food served all over the country and very reasonably priced and a great way to try a number of Spanish dishes in one seating.
The Tapa ( which means to cover ) was invented in a bar in Seville in southern Spain by farmers who used to cover their drink with a piece of bread to keep out small insects.
Fine Dining
Gastronomy of Spain has been on a culinary high in recent years where some of the best restaurants anywhere in the world can be found, Barcelona alone boasts some 22 Michelin starred establishments.
Three restaurants, the Cellar de Can Roca in Girona and the Mugaritz, Lazarte and Arzak in San Sebastian are often ranked in the top 10 Restaurants worldwide.
The pick of the best two starred Michelin starred restaurants in Barcelona include Moments Restaurant, Abac, Lasarte and Enoteca.
If you are thinking of eating at any of these restaurants you will need to book in advance, in some cases, many months beforehand.
Rice Dishes and the Famous Paella
Paella  is probably the most famous Spanish dish, known throughout the world and is a rice dish cooked in many different variation depending on the region.
Usually Paella is cooked with seafood or chicken or rabbit and sometimes all at the same time.
Where do you find the best paella? Well Valencia is the province where this famous dish was born, so arguably the best varieties can be tasted around this region.  It is often a custom to cook huge Paellas during local festivals.
If you are into cooking there are plenty of opportunities to book into traditional cooking classes in Spain.
Black Foot Ham and Other Cured Meats
Cold meats are a firm favourite in Spain and is home to the world renowned black foot cured ham and the delicious chorizo sausage.
The prize delicacy is ''Jamon Iberico, cured ham with a unique taste, ideally, good quality Spanish ham should be sweet rather than salty.
One of the best types of Spanish ham is from the town of Jabugo in Huelva in Andalucia where the finest Pata Negra ( black foot ham ) is cured, surely one of the pinnacles of excellence of gastronomy in Spain.
There are also several types of sausages made of pork meat, especially chorizo (spicy and thin) and salchichon (dry and very similar to Italian salami).
Fresh Fish and Seafood
Spain is a Mecca for fish and seafood lovers and on average a whopping eight kilos of seafood is consumed per person every year.
The choice is remarkable and what you would expect from a country surrounded by the Mediterranean and Atlantic seas.
Lobsters, langostines,  crabs, barnacles, shrimps, octopus. oysters, mussels and clams are amongst the favourites on offer all over Spain.
Meats
There is always a good selection of fresh meats on sale at the larger supermarkets and indoor markets to be found in most towns and villages throughout Spain.
Beef is eaten quite a lot in Spain and is called ternera. Other favourites include fillets of ternera, chuletas de cerdo ( pork chops ) lamb chops, chuletas de cordero. Galicia is well know for producing the best Spanish beef due its extensive are of green pastures and temperate  climate.
Variety of Wine and Sherry
Along with France and Italy, Spain is one of the top producers in the world. It has a wide variety of quality wines from 57 different areas.
Sherry is the international wine of Spain, due to the increasing exports in recent years.  The name is derived from the town where it is made, Jerez.
Sherry (or Xerez) is available in various versions: dry fino, manzanilla very dry, semi-dry amontillado or Oloroso semi-sweet.
Some of the most famous vineyards are found in Rioja, in the picturesque northern central area of Spain and at Penedes, near Barcelona.
Sangria is known in Spain as a sort of punch prepared either with wine or champagne, mixed with pieces of fruit and sometimes with spirit drinks and usually served in mugs with a kind of ladle.
Award Winning Cheese
Spain is also home to a large selection of award winning cheeses, there are around  100 different varieties.
Every region has its own speciality, covering a full range of cheese types, from fresh to cured and fermented to blue-veined.
One essential characteristic is the type of milk used in the production. Depending on the area, time of the year, climate, or tradition, cheese in Spain is  made of cows milk, sheep's or goats' milk, or indeed a mixture of all three.
Eating and drinking in Spain represents more than a necessity, it defines the country's culinary traditions and customs. Cheese is not only delicious but one of the major attractions when dining at home or out.
Regional Flavours
Madrid
Madrid offers a lot to travellers looking to try out food from this central region of Spain.
The top local dishes on offer in Madrid include:
Callos a la Madrilena - Chick pea stew.
Huevos rotos - Cripsy fried eggs over home made chips.
Oreja a la plancha - Pigs ears cooked on a griddle.
Pincho de Tortilla - Fresh Spanish omelette.
Bocadillo de Calamares - Battered fried squid sandwich of crusty bread.
Churros con Chocolate - ( Deep fried Pastry dipped in a thick chocolate sauce).
Galicia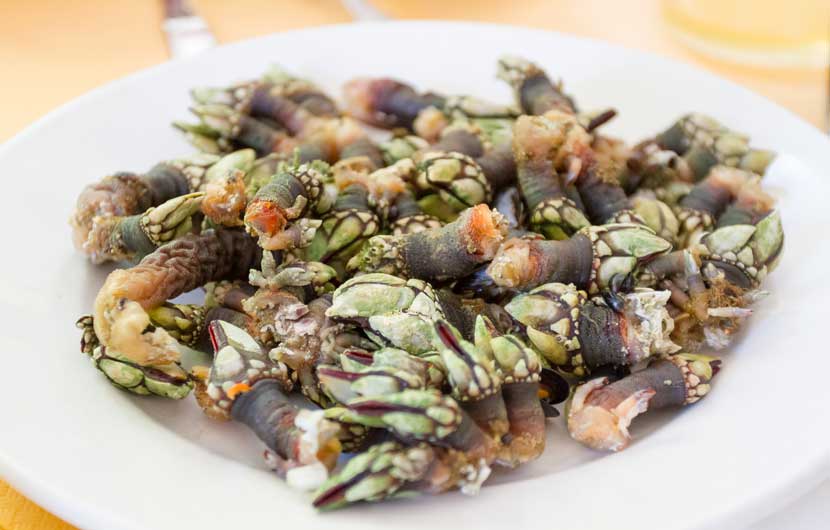 » Fresh fish and seafood – The king of gastronomy in Galicia is undoubtedly the fresh seafood that can be found in abundance on every corner of this green and fertile land. From spider crabs to cockles and lobster to small sweet mussels, you will never be far away from an eatery serving a selection of dishes containing fresh fish or seafood.
1. Empanada a la gallega – a salty pie pastry filled with chopped seasonal vegetables, spices and meat of your choice.
2. Vieiras a la gallega –   Fresh scollps stuffed and baked in bread crumbs and paprika, a delicacy of some refinement.
3. Queimada –  a traditional drink containing ground coffee, sugar, lemon zest and Orujo liqueur, mixed in a clay pot and cooked over a fire
4. Pimienta de padron –  Very small locally grown peppers fried in extra virgin olive oil then sprinkled with sea salt. such a simple dish but packed with flavour.
5. Tarta de Santiago  –  Named after St James  the saint of Spain.   It is made up of ground almonds, decorated with fine caster sugar and the sword of St. James or a cross which covers the topping. It is thought a  pilgrim may have introduced the recipe to Galicia during a pilgrimage.
Catalonia
Catalonia receives influences from both the French Pyrenees in north and the Mediterranean breezes from the east, reason why the Catalan cuisine combines the mountain and coastal recipes in a wonderful way.
Popular dishes include the best of both worlds,  ''Mar i Muntanya'', meaning "sea and mountain",  a combination of fresh meet alongside shrimp, garlic and almonds, all soaked in white wine sauce. Yum! Or for a true Catalonian dining experience, try the  Escalivada – vegetables cooked in the embers of a wood fire, sprinkled abundantly with olive oil served with Cava – a sweet, sparkling drink similar to champagne only much cheaper.
Mar i Muntanya''  meaning "sea and mountain",  a combination of fresh meet alongside shrimp, garlic and almonds, all soaked in white wine sauce.
Escalivada – vegetables cooked in the embers of a wood fire, sprinkled abundantly with olive oil served with Cava – a sweet, sparkling drink similar to champagne only much cheaper.
Pan con tomate –  a hugely popular dish simple to prepare. A slice of fresh farmhouse bread or baguette cut in half, toasted, rub a fresh tomato into the bread, drizzle with extra virgin olive oil and some sea salt. Such a simple but tasty dish, also goes well with slivers of finely cut Iberian ham.
Sofrito –  A tasty tomato suace using tomatoes, garlic, onions and peppers. Goes well was a side on many dishes.
Crema Catalan – a very addictive Catalan dessert. An egg custard finished with caramelised sugar which leaves a fine sweet crunchy topping to the dessert.
Andalucia
They say that any holiday to Spain should include a visit to charming Andalucia and to taste the emblematic tapas should be part of that experience.  The famous tapa  is most definitely a big part of the gastronomy in Spain and is said to have originated in a small bar in Seville, Andalucia.
Andalucia's cakes and desserts are inspired by it's Morrish origins and Christian Monasteries.  Influenced by honey, almonds and walnuts which perfectly with the salty Jamón Ibérico (Iberian ham), or over Boquerones (fresh anchovies).
Sherry and sweet Malaga wines also play a part in Andalucia gastronomy.
Top Andalucian dishes include:
Jamon Iberico  – Some of the best cured ham is from Andalucia.  Jabugo is one area in  Andalucia where cured ham excels in its taste and quality.  Cut off the bone in very fine small strips and eaten with small crunchy bread sticks.
Extra virgin olive oil –  Spain  is one of the worlds biggest producers of olive oil, the provinces of Jaen and Cordoba boast being home to the largest olive plantations in the world.
Pescaito Frito  – Very popular in Malaga and  along the coastal areas of Andalucia. Fresh locally caught fish deep fried in olive olive, the most popular fish eaten are boquerones, baby squid, hake, shrimp, squid rings and octopus.
Gaspacho Andaluz –  A refreshing cold soup made from fresh tomatoes, cucumber, peppers, garlic, olive oil, breadcrumbs and sea salt all blended together.
Salmorejo –  This is a deliciously thicker version of Gazpacho. Essentially the same ingredients but with more bread to thicken the dish, usually served with chopped cured ham and diced boiled egg on the top with a drizzle of extra virgin olive oil.
Canary Island Gastronomy
Many holiday makers  visit this part of  Spain each year and enjoy the culinary dishes on offer, flooded in freshness and flavour. The "Eternal Spring" in the Canary Islands, opens your appetite to a semi tropical diet that easily is distinguished from other menus on the continent, by its native Guanche and African influences, but also by the food brought from America, in the era of discoveries.
Gofio (roasted corn) is the preferred ingredient in all dishes and the spicy sauces Mojos amplify your appetite when is served with a portion of sanchocho canario (salted white fish) and papas arrugadas (small potatoes boiled in seawater).
Papas Arrugadas  – Wrinkled potatoes. Small whole unpeeled potatoes cooked in water and lots of sea salt served with a spicy Mojo sauce.
Mojo Picon  – Spicy sauce  made from garlic, paprika, chillies, sea salt, cumin seeds, white wine vinegar and olive oil.  Goes great with Patatas Arrugadas.
Caldereta – A tasty lamb stew made  with local lamb or goat, garlic, chillies, cinnamon, pepper corns, tomatoes, vinegar, red peppers and green olives.
Bienmesaba –  A rich dessert made with honey, almond cream, eggs and rum.
Basque Country
One of the regions where food reigns supreme is the ever green Basque country in northern Spain.
The Basque country is fanous for it's seafood, grilled meats and of course amazing tapas. The best food to eat in the Basque country includes.
Pintxos ( tapas ) the ultimate bar snack.
Marmitako, a fish stew made with tuna, onions, potatoes, garlic and red peppers.
Bacalao pil-pil - Fresh cod cooked in olive oil, garlic and chilly
Bacalao a la Vizcaina - Cod cooked in lots of tomato sauce, onions, garlic and roasted red peppers.
Txipirones - Baby squid cooked in their own ink with white wine and garlic.
Txangurro - Crab stuffed with onions, leeks, tomatoes, parsley, brandy then topped with bread crumbs and baked in the oven.
Percebes - Fresh goose barnacles typically boiled beforehand in seawater, then eaten cold.
Goxua - Small sponge cakes topped with custard, cream and caramel sauce.
Alubias de Tolosa - A stew made from black beans, olive oil, onions, pork, blood sausage, peppers and chilli.
Gastronomy Tours - Book in Advance