A Selection of Easy To Prepare Spanish Dishes
One of the great pleasures of visiting Spain is the delicious food on offer.
Spanish cooking has something for everyone with its diverse use of fresh ingredients, flavours and cooking methods.
These recipes will help you enjoy a little bit of Spain in your very own kitchen with typical dishes such as Paella, oven-baked sea bass or garlic prawns.
Cooking is fun so please try out our selection of some of the best recipes from Spain.
Learn how to cook one of Spain's most famous dishes - Paella
Guest Recipes from Around Spain
Catalan Home Cooking - From Nuria at A La Taula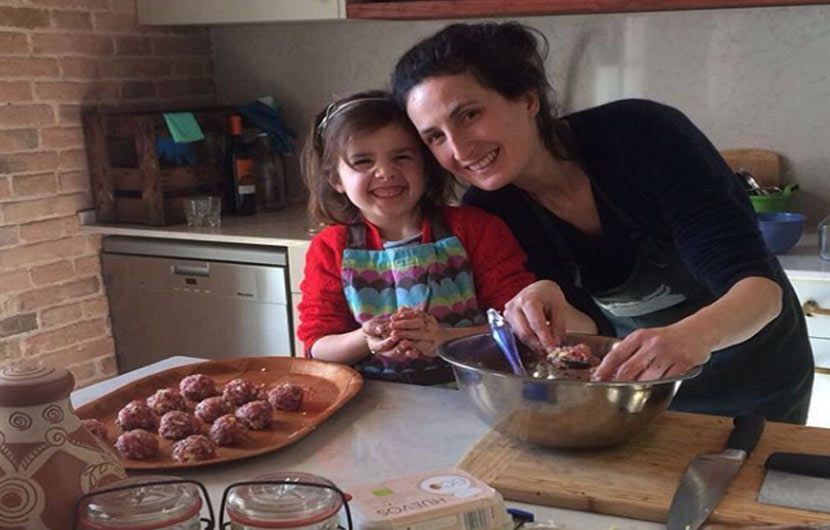 1/2 cup of dry wild mushrooms
1 big sweet onion, small diced
1 red pepper, small diced
3 medium-size plum tomatoes medium size, grated
450 gr pork ribs, chopped
350 gr chicken, chopped
2 medium-size cuttlefish with the spleen (about 700 grams)
600 grams of "bomba" rice (paella rice)
3 liters fish stock (best made with rockfish and shellfish)
1 bunch of parsley, chopped
Olive oil
Salt, to taste
- Soak the mushrooms with half a liter of warm water for about 30 minutes or more.
- Heat up a big casserole and add a generous amount of olive oil.
- Season the chicken and brown all sides. Put this aside.
- Season the pork ribs and brown all sides. Put this aside.
- Fry the cuttlefish.  Season and put this aside.
- Add more oil if needed and fry the onion and pepper until soft and caramelized. Add the shredded tomatoes and cook until caramelized and it gets the consistency of a jam.
-Put back the pork, chicken and squid and the squid spleen. Stir and mix well and add the rice. Add the fish stock to cover (should be at boiling temperature) and cook for 5 minutes in high flame. Reduce the flame and cook for 10 more minutes until rice is almost done. In this time add more stock at boiling temperature if needed.
- Before the rice is almost cooked, add the soaked mushrooms.
- Let the rice rest covered with a kitchen towel for 3 minutes. Serve with some parsley on top and enjoy!
Home cooking from Lynsey at La Rosilla
An earthy frugal dish, which has been enjoyed and adopted by families all over rural Spain for years. The chickpea is a very important ingredient in Spanish cooking.  This dish can be enjoyed as a tapa, or as a main dish. Equally enjoyable served hot or cool as an accompaniment for meat dishes.
Ingredients
Jar of chickpeas drained and rinsed
Olive oil
4 tomatoes skinned and chopped
1 x red onion sliced
Fresh spinach
Cumin seeds
Dried mint
Chilli or harissa paste
Salt and pepper
Cinnamon and lemon to serve
In as saucepan, heat olive oil and gently fry onions until softened
Add cumin seed and harissa
Add chopped tomatoes and cook for 5 mins add dried mint
Add seasoning and chickpeas bubble for 5 mins
Add spinach put lid on and let spinach wilt down
Stir and adjust seasoning
Serve in rustic bowls with a slice of lemon and a sprinkling of cinnamon and chopped parsley.
Huerta, Granja y Montes -  Roast Quail with braised lentils, chorizo & butternut squash with a  morcilla scotch quails egg.
INGREDIENTS: Serves 4
FOR THE SCOTCH EGGS
Quails Eggs
100 g Sausage Meat
50 g Morcilla
Fresh breadcrumbs
1 egg beaten
2 tbsp Plain flour
Bring a small pan of water to the boil, and add quails eggs for exactly 1 minute 50 seconds. Then immediately put the eggs in a bowl of ice water to stop the cooking process for 5 minutes.
Mix the sausage meat and morcilla together, I used a hand blender.
Put the Breadcrumbs, egg, and flour in 3 separate bowls.
Carefully peel the quails eggs.
Take a spoon of morcilla mix and carefully wrap around the quail's eggs.
Dip the covered quail's egg in flour, egg wash then breadcrumbs.
Refrigerate until later.
FOR THE LENTILS
Glug of Extra Virgin Olive oil
1 red onion diced
2 sticks of celery finely chopped
100g Chorizo diced
1 clove of garlic finely chopped
1 sprig of rosemary leaves finely chopped
1/4 small Butternut squash diced
200g cooked Pardina lentils
Sploosh of Palo Cortado Sherry
In a pan add olive oil and gently saute the onion, celery, and butternut squash until tender.
Add the chorizo, rosemary, and garlic – saute for 5 minutes.
Add the sherry and bubble down for 1 minute.
Add cooked lentils and stir through to combine all ingredients.
Keep warm and set aside.
FOR THE BUTTERNUT PUREE
1/4 Butternut squash in chunks no need to peel.
Olive oil
Salt & Pepper
Sherry Vinegar
Place the butternut on a baking tray and drizzle with Olive oil and season.
Roast in the oven for about 20 minutes until tender.
Place in a bowl and blend to a puree add sherry vinegar and glug of olive oil.
Keep warm.
FOR THE QUAILS
4 Quails
Olive oil
Butter
Salt & Pepper
Season the quails, inside and out.
In a pan melt the butter and olive oil and heat to high.
Add the quails and brown on all sides.
Roast in the oven 180c for 15 minutes.
Leave to rest in a warm place.
Whilst the quails are resting, the lentils are being kept warm, time to fry the scotch eggs.
Heat a small pan of vegetable oil to 180C, then gently lower the eggs in and fry for 3 minutes.
Take out of oil and place on a plate with kitchen paper to absorb the oil.
NOW TO PLATE
Spoon the lentils onto a warm plate, place the roasted quail on top & drizzle with Olive oil.
Spoon on some puree and add the scotch egg cut in half to allow the oozy yolk to be seen.
Ingredients
80g Chopped onions 80g
180g Calamari
80g Chopped red pepper
1 Garlic glove
80g Crushed tomatoes
200g Arroz bomba.
4 Prawns.
500g Seafood Broth
500g Lemon rind
2 Sprigs of Saffron
Preparation:
Add a generous amount of extra virgin olive oil to the paella pan, and add the garlic and lemon rind, roast until garlic is nice and brown before removing
Now that the pan is hot and has some flavor, sear the prawns, 30 seconds on each side, pressing on the heads after the first flip. Remove set aside, cook calamari rings for 30 seconds while stirring. Remove and set aside.
Add the finely chopped onions to the pan and caramelize until golden brown, mince the garlic and add into the pan
Add the red peppers and continue to cook until the peppers are soft
Add the crushed tomato and cook together until the majority of the water has evaporated.
Add the saffron and mix until the sauce has slightly thickened.
Add the rice into the pan, and mix with the sauce, adding some olive oil to fry the rice. Cook rice for 3 minutes
Add the broth and slowly mix it into the rice while turning heat to max power. Once the broth boils, turn it down to medium heat and cook for 3 minutes.
Place the seafood back onto of the paella in a decorative manner
Cook paella in the oven for 15 minutes at 200 degrees Celsius
Serves 2
Ingredients: 
60g Mushrooms
120g Pork Ribs, Cubed.
200g Bomba rice
80g Sweet onion
90g Fresh tomato puree
1 Garlic clove
500g Pork and Mushroom broth 500g
80g Asparagus chopped
Salt to taste
2 Sprigs Saffron
1 tea spoon Paprika
 Preparation:
Preheat oven to 200 degrees Celsius.
Turn stove to medium heat and add oil to pan.
When oil is hot, cook garlic clove until golden brown.
Remove and begin searing the pork until 50% cooked. Remove and let rest.
Add oil and onion to pan. Chop garlic and add to onion until soft.
Add asparagus and mushrooms.
Add the tomato pure and cook until water has slightly evaporated.
Add the rice and mix well, making sure all the rice is covered in the sauce.
Add broth and turn to high heat, cook until it reaches a boil.
Once boiling turn the heat down to medium and cook for 4 minutes, Note: Do not stir rice after this point.
Place the ribs back onto the paella
Place paella into the oven for 15 minutes until the rice has absorbed all the liquid.
Ingredients:
Extra virgin olive oil
1 clove garlic 1
½ Lemon rind
½ lemon
80g red pepper
160g Chicken
160g Pork ribs
80g Sweet onion
70g Fresh tomato puree
2 sprigs Saffron
200g Bomba rice
500g Chicken broth
Salt to taste
Preparation:
Preheat oven to 200 degrees Celsius.
Turn on the stove to medium heat, add the extra virgin oil and roast garlic and lemon rinds until slightly toasted. Remove garlic and lemon and set aside.
Sear the chicken and pork on both sides until 50% cooked.
4. Add onions, slightly caramelize, while this is caramelizing chop the roasted garlic and add it to the pan. Add red peppers, continue to caramelize until golden Brown. Add the tomato and cook it down.
Make a center in the paella, add oil and stir in the saffron.
Once the sauce has cooked down, add the rice. Mix well and make sure the sauce covers all rice grains and stir for the next two minutes.
Add the Broth and turn the induction to high until boiling. Once boiling turn the heat down to medium. Arrange pepper strips and meat into a decorative pattern and cook for 4 minutes. Do not stir the rice after this point.
Place paella in the oven for 15 minutes until rice has absorbed the remaining liquid.
Toma & Co Cooking Classes Andalucia
Ingredients 4 Persons
1kg ripe tomatoes quartered
1 small green pepper (Italian pepper style) seeds removed and coarsely chopped
1 or 2 cloves of garlic peeled and chopped (adjust the quantity to taste)
1 big slice bread soaked in water and squeezed
80ml extra virgin olive oil (approx.)
Salt
1 tbsp vinegar
Garnish: 1 hard-boiled egg finely chopped and Serrano ham or tuna flakes, also roasted almonds flaked with Serrano ham (Parma ham will do also) are great
Preparation:
Following the traditional recipe involves using plenty of bread as a thickener and also as a way to give another "chance" to stale bread. I only use 1 slice of bread or nothing at all to enhance the flavor of vegetables, but don't forget that this is a thick cream, so squeeze the tomatoes to avoid an excess of liquid if you are not using much bread.
Green pepper can also be avoided if you prefer, as there are different versions of this recipe and some of them don't use any pepper.
Sherry vinegar adds a great flavor, but you can use any vinegar you may like (Modena vinegar is not a good option in this case though).
Halve the tomatoes and squeeze them to remove the excess of liquid if necessary* (choose a fleshy variety like Roma, in Spain they are called "tomate pera"). Put them in a mixer along with the green pepper, garlic, wet bread, a tbsp vinegar and salt. Blend until you get a fine paste.
With the motor running pour slowly the olive oil and continue blending to emulsify and get a more creamy texture.
Pay attention to the mixture color, when it turns from red into orange stop adding oil.
Pass it through a sieve to eliminate seeds and keep refrigerated until serving.
Serve very well chilled and garnished with the chopped egg and thin strips of ham or tuna flakes.
Ingredients:  For around 30 meatballs
250grms ground pork +250grms ground veal (or any other meat you may prefer)
Meat seasoning:
1 egg slightly beaten
2 slices white bread crust removed, soaked in milk or water and squeezed
2 garlic cloves finely chopped
1 onion grated (optional)
30grms grated Parmesan cheese (optional)
Thyme or cumin, a handful chopped parsley, salt and black pepper
Almond sauce:
200ml water or chicken stock
80ml dry white wine
2 whole garlic cloves peeled
1 slice day old country bread crust removed
15-20 blanched almonds
Parsley, 1 clove, turmeric (or saffron threads), salt and black pepper
Extra virgin olive oil
Use a large bowl to season the meat with all the ingredients, working with a fork or your hands until they are well incorporated.
Let the mixture refrigerate for at least 1/2 hour.
Preheat the oven at 180-200º and shape the meat into one-bite-size balls, greasing your hands with olive oil to make it easier. Place them on the oven tray covered with a baking sheet and bake them until slightly brown, about 10min. (they will cook further in the sauce). Shake the tray after 5min. to turn the balls.
You can also deep fry them in plenty of olive oil (this would be the traditional way)
In the meantime prepare the sauce: fry the almonds, a small bunch of parsley, bread and whole garlic cloves until golden brown (not burnt!). Remove and transfer to a blender vase adding the water or stock, allow it to hydrate for a few minutes and blend until you get a fine mix, or leave it not too fine to add some crunchy texture. This mix, without the water, is called "majadillo".
Heat a pot and put the meatballs along with the white wine. Cook until the alcohol has evaporated, then add the almond blend, 1 clove, turmeric, salt and freshly ground black pepper. Stir carefully and let it cook for about 10 min. or until
Ingredients:  ( 4 People )
2 medium size eggplants
All purpose flour to coat
Olive oil for deep-frying (or any other vegetable oil if not available)
Salt
Molasses or "porra" to drizzle over or dip the sticks
Preparation:
Slice the eggplants in and cut the slices into regular sticks (the size of French fries).
(Traditionally the eggplant would be cut into thin slices but sticks are lighter and have a nicer texture)
Toss them with salt, place in a colander and let them stand for at least ½ hour to eliminate bitterness and liquid.
Place the sticks in a bowl with the flour and coat them well, shaking off any excess.
For better results repeat the coating shaking off again.
Heat plenty of oil in a deep pan and in batches (not too many at a time) fry the sticks, stirring gently, until golden. Place on the colander used before or a plate covered with a paper towel to absorb the excess of oil.
Serve immediately sprinkled with salt (if needed) and a drizzle of molasses or salmorejo. They are also great just with salt.
Forks are not allowed!!
More great recipes from Spain
If you're a foodie, you'll be delighted to find that it's customary to have more than just three meals per day in Spain. And you're certainly not limited in dishes to choose from!
There are also plenty of opportunities to participate in cooking classes in Spain as they are readily available all around the country. Cookery classes are a great way to learn how to cook Spain's most popular dishes whilst providing an interesting insight in Spanish culture,  plus you get you meet lots of like minded people in fun and relaxed surroundings.
And if you fancy really immersing yourself into the Spanish way of life why not try one of a number of traditional Spanish cooking classes available throughout Spain.
No matter where you plan to travel, check out this mouth-watering map that shows some of the traditional Spanish cuisine across the country. From the delicious paella in Valencia to the savory empanadas in La Coruña, you'll get a little taste of all that Spain has to offer!
Sardines on a spit.. the Spanish way
A walk along many of the beach promenades in Andalucia you are greeted by the unmistakable smell of Sardines being cooked over open fires.
It may seem pretty straight forward to achieve the best results when cooking, however there are few things you should know to get ensure the Sardines are cooked to perfection.
The spits are made out of a piece of bamboo, a cut in half and shaped rather like a knife with a longer thinner pointed end, it is best to immerse the bamboo spits in cold  water before use.
The Sardines should be  laid out in trays a few hours before cooking with an ample  amount of good quality sea salt sprinkled over them, this is not only for taste but will harden the sardines slightly which makes them easier to feed on the spits.
It is very important  that the spit is placed in such a way that the sardines do not fall off, the way  to do this is to  thread the spit in below the spine and through the fish   and then slide it through the stomach and out the same side as the spit went in.
You can place about  five sardines on each spit.
Leave plenty of time from lighting the fire to cooking to allow the flames to die down, the carbon or wood  is ready when it the fire takes on more of white colour and there are no flames.
Cooking time will depend on the inclination and distance of the spits  to the fire,  sardines  usually take around  3-5 minutes on both sides and 7-10 minutes for larger  pieces.
Once cooked, sit back an enjoy with a nice glass of sangria, white wine or an ice cool beer.
Other Top Spanish Recipes
Here is a selection of recipes from some of our favourite food bloggers.