Tenerife offers a perfect climate and colossal beauty
Tenerife is one of the most popular tourist destinations in the world, due to its year-round warm climate, popular beach resorts and stunning natural landscapes. Over nine million holidaymakers choose Tenerife as their prime holiday destination each year – and it's easy to see why.
Tenerife is the big brother of  the Canary Island chain, with a pleasant all year climate and average temperature of around 23 degrees Celsius making it an extremely popular all year round destination.
The most popular holiday resorts are located on the south coast where resorts such as the Playa de Las Americas and Los Cristianos offer value-for-money accommodation and a wealth of things to do for all family members. The southern shoreline is bordered by stretches of golden beaches and nice promenades, all lined with shady palm trees, small shops and enticing eateries.
On the other hand, northern Tenerife offers the more traditional and cultural view of the region and its people, it's coastline is much more wild, rugged and scenic, with cliffs and towering headlands jutting out into the blue Atlantic Ocean.
We have compiled a comprehensive Spain travel resources page to help you plan and book a trip or holiday to Tenerife with a  budget busting hotel search comparison platform, travel insurance, low cost flights, discount car hire, tours, excursions as well money saving travel and holiday deals.
See - 15 top things to do in Tenerife
5 Interesting facts about Tenerife
Tenerife has the same national flag as Scotland for one very simple reason; they both share the same patron saint St Andrew.
Many people believe that Tenerife was actually the mystical Atlantis before the volcano erupted and brought it up above sea level. This will probably never be proved or disproved, but its a nice thought!
When you look at the peak of the Teide volcano bathed in glistening snow its hard to imagine red hot lava spewing out of it but it is still officially classed as active even though it hasn't erupted since 1909.
If you are a lover of the paranormal you have the best chances of seeing a UFO in Tenerife. There have been more sightings reported here than anywhere else including one in 1976 which lasted for 40 minutes, was witnessed by hundreds, and for which there is still no explanation.
Mystery writer Agatha Christie spent a lot of time on the island and sought inspiration for many of her books from the idyllic surroundings. Several locations around Tenerife are mentioned by name in her novel "The Man from the Sea".
Top things to do and see on Tenerife
Teide National Park
Visiting the Teide National Park, one of the most visited national parks in the entire world, is a definite must-do, Mount Teide is the highest point of Spain, the peak reaches a staggering 3700 meters and is visible from all over the island.
Tenerife is full of natural parks with breathtaking landscapes in areas of outstanding beauty such as Los Gigantes, Teno and Caleta National Parks.
The Drago Tree
Unusual attractions include the incredible Drago Tree, a tree which is thought to be between 650 and 3.000 years old tree, perfect for that everlasting holiday photo.
Los Cristianos – South Tenerife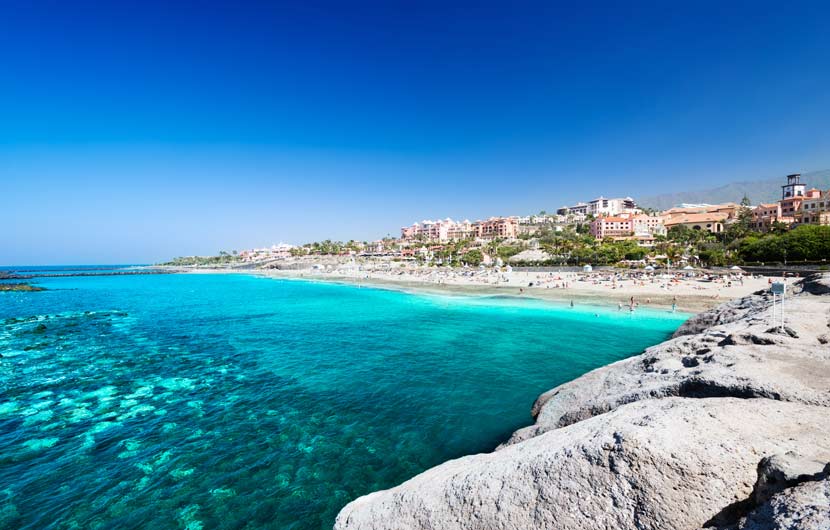 Sitting on the south coast of Tenerife, Los Cristianos has long been a popular destination for British travellers who want more from their holiday than just a great nightlife. The resort  enjoys a superb location on the south coast and is an ideal base to explore the rest of the Island, a good way to do is renting a  car.
Although Los Cristianos has grown into a large beach resort it hast still managed to retain a friendly low key atmosphere built around some of the best beaches in Tenerife.
El Medano
This traditional small town has a wonderful surfer vibe and is a wonderful contrast to the big resorts. The town boasts a host of great places to eat and the annual fiesta in August is a must see.
Santa Cruz
The capital of Tenerife is an attractive beach city which gives visitors an insight into how life was on the island before the tourist invasion, while much modernisation has taken place in recent years it still manages to retain a charm found in few capitals.
Fun theme parks on Tenerife
»  Siam Park
»  Loro Park
»  Aqualand Costa Adeje
»  Jungle Park
Eating out – Go Local
The Papas Arrugadas ( wrinkled potatoes ) are typical of the Island accompanied by a red or green spicy sauce Mojo , grilled meats and fish are a also popular staples.
Eating out in Tenerife is still very reasonable price wise, for around  15 to 20 Euros per person you can eat at most middle range restaurants. A good option is the menu del dia ( basic 2 course menu ) including bread and a drink for around 10 Euros per person, this offers the best value for your money.
Try the guachinches, these are makeshift stalls put up by the locals and are well known for offering traditional Canarian goodies at very reasonable prices. The produce is fresh and the portions are huge as the stall owners are very generous with their servings. Some guachinches have become permanent fixtures, especially those around the harbour around Puerto de la Cruz, even more spring up around the holiday season and during festival season.
Michelin starred restaurants in Tenerife
Nub
This first class restaurant is located within the Laguna Gran Hotel in San Cristobal de la Laguna. Chefs Andrea Bernardi and Fernanda Fuente Cardenas serve a fusion of Italian, Canarian and Chilean flavours.
Website: http://www.nubrestaurante.com/ 
Txoko
Run by one of Spain's great chefs, Martin Berasategui Txoko is located at the 5 star Ritza Carlton Abama Hotel in Guia de Isoro.
Website:  http://www.ritzcarlton.com/
Abama Kabuki
Another world class restaurant located within the Ritz Carlton Abama Hotel in Guia de Isoro. Chef Ricardo Sanz has created a menu which fuses Japanese and Western cuisine superbly well.
Website: http://www.ritzcarlton.com/
El Rincón de Juan Carlos
A delightful family run restaurant located at the striking coastal town of Acantilado de Los Gigantes. This Michelin starred eatery is run by Juan Carlo and hi brother Jonathan.
Puerto de la Cruz
Puerto de la Cruz is a delightful harbour town located on the north of the island,  it is full of quaint streets, quality shops and graceful plazas – not to mention the beautiful garden beach, which provides stylish relaxation beneath the sun.
The geographical location of Puerto de la Cruz is a major attraction for visitors to the region, as the area is located at the foot of the La Orotava Valley on the North West coast of Tenerife. This area is rich with vibrant vegetation, despite the fact that it receives less rainfall than other resorts in the northern part of the island.
Things to do and see in Puerto de la Cruz
Much of the beauty of Puerto de la Cruz lies in its traditional outlook, historically, this was developed to connect the wealthy citizens of La Orotava with the New World – allowing the townspeople to export sugar, wine and dye colourings.
In stark contradiction to many other areas of Tenerife, the harbour still boasts a traditional look and feel. Local vendors serve the traditional foods of the Canaries from booths by the water's edge, allowing visitors to sample the fresh bounty of the sea. Tourists and locals alike while the hours away, watching colourful fishing boats floating on glimmering seas of aquamarine.
Depending upon the time of year during which you make your visit, you'll be able to partake in the fiestas and carnivals at the harbour. Right across Tenerife, fishermen hold celebrations in honour of their patron saint La Virgen del Carmen around the 16th of July – a tradition held since the 18th century.
For a pleasant stroll head through the old town, with its bustling, narrow streets. here, you will find beautiful colonial architecture as well as buildings that date back to the times when the town was used as a popular Victorian spa destination for ladies.
Other local attractions include the Lago Martianez beach, a sea-water filled pool complex and the banana plantation and the botanical gardens.
Tourism Board

Recommended accommodation in Tenerife
Luxury High-End
The 5 star Iberostar Grand Hotel Salome offers superb luxury accommodation on the Costa Adeje a 10-minute walk of Fanabe Beach. Facilities include Spa Sensations, pools, tennis courts, Turkish bath, Jacuzzi and numerous eateries. Reviewer Rating: 9.7
Mid Range
The 4 star Hotel Spa Villalba Tenerife is a charming rural hotel located in the town of Vilaflor right on the outskirts of the Teide National Park. Reviewer Rating: 9.1