Tenerife is known as a haven for sun seekers who are guaranteed an almost perfect all year round climate.
Although Tenerife is a volcanic island with a largely rugged and wild coastlaine, there are still a number of great beaches to choose from.
Whether you prefer the dramatic dark sand of the natural coastline, or gleaming, golden man-made stretches of sand, Tenerife has a beach to suit you.
Here is our list of the top 10 beaches Tenerife, enjoy!
1. Playa Del Duque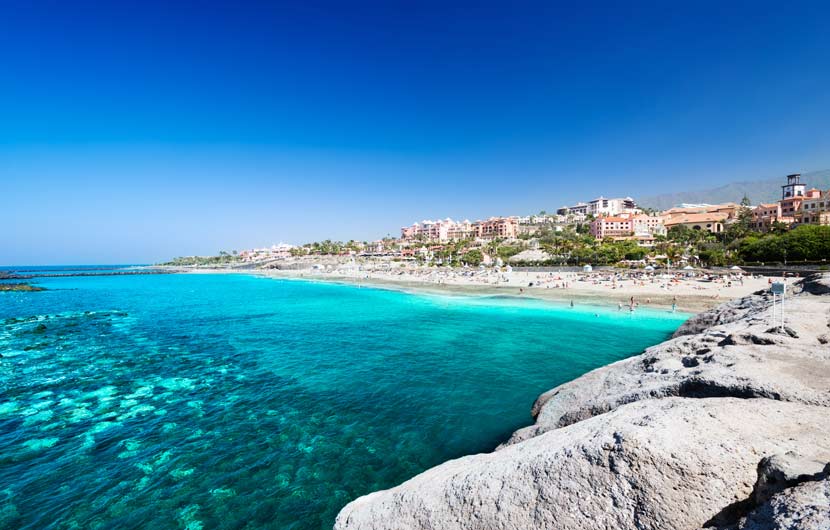 Playa del Duque is one of the most popular on the island and is worthy of starting our list of the top 10 beaches Tenerife.
Regarded as the beach to be seen on as it is found on the Costa Adeje, where all the beautiful people roam!
A white sandy paradise of thatched straw umbrellas, the perfect beach to chill out, people watch and marvel at the crystal clean Atlantic waters.
Be warned though, it can be a little expensive if you are thinking of hiring your own sun loungers for the day.
2. Playa Las Teresitas
One of the most popular beaches in Tenerife. A beautiful orange-gold and yellow sand beach dotted with palm trees and with a gentle sea teeming with fish. It's also within a short stroll of lots of great fish restaurants.
3. Playa de las Americas
Located in Arona, Playa de las Americas is one of the busiest beaches on Tenerife, It is located by the purpose build resort which attracts visitors all year round.
The sand is imported from Africa and is of excellent quality.
There are plenty of fun things to do in Tenerife and close by there lots of bars, nightclubs, restaurants and other attractions close by.
4. Playa Las Vistas
Playa Las Vista is a huge beach, which means that although plenty flock to enjoy the charms of its pale sand, it never seems crowded.
It is located between Los Cristianos and Playa de Las Americas, and there is a wide choice of shops, restaurants, and ice cream kiosks on the promenade in case you get bored of topping up your tan.
5. Playa de La Arena
Playa de La Arena is a natural black sand beach and a  favourite with families and has won blue flag awards for ecological preservation over many years.
It's located in a sheltered bay that offers a natural sun trap, and there's a well-loved tapas bar directly on the beach for snacks and drinks.
6. Playa San Juan
A low key beach, famed as a location for great sunsets. It is set alongside a picturesque marina and has an elegant esplanade, and several very good seafood restaurants to choose from.
7. Playa Bollullo

Another black sand beach, but this is more for lovers of untamed nature. It is situated just east of Puerto de la Cruz at the foot of sheer cliffs, in an idyllic cove.
8. Playa Jardin
Was created by the well-known artist and architect Cesar Manrique, with soft black sand, a cactus garden and views of Mount Teide to delight the eyes.
A choice of restaurants close by does a good job in feeding hungry stomachs after a long day at the beach.
9. Playa Los Cristianos
A busy beach, right in the middle of Los Cristianos. There is a bustling port here, with pleasure cruisers rubbing shoulders with fishing boats, and happy tourists strolling the promenade to complete the picture. Los Cristianos is one of the most popular Tenerife holiday resorts on the Canary Islands.
10. Playa El Camison
The beach is on the Southwest coast of Tenerife. It's close to the karaoke bars and popular cheap bars and restaurants and has a very cool beach bar of its own.
This concludes our list of the top 10 beaches Tenerife and as you can see, there's an option for everyone. Whether you feel like people watching, swimming, or relaxing it's not hard to find that perfect beach on the Canary Island of Tenerife.
Live Web Cam - Playa de Troya - Adeje
Tenerife Tours - Book in Advance