Spain is definitely the right place for tasty food grazing – who doesn't love a plate of manchego  and a plate of black foot cured ham an ice-cold beer?  However, for the more adventurous who would sometimes like a change from traditional tapas? Here are seven unusual dishes you should order  if you fancy a break from the usual Spanish fare.
Percebes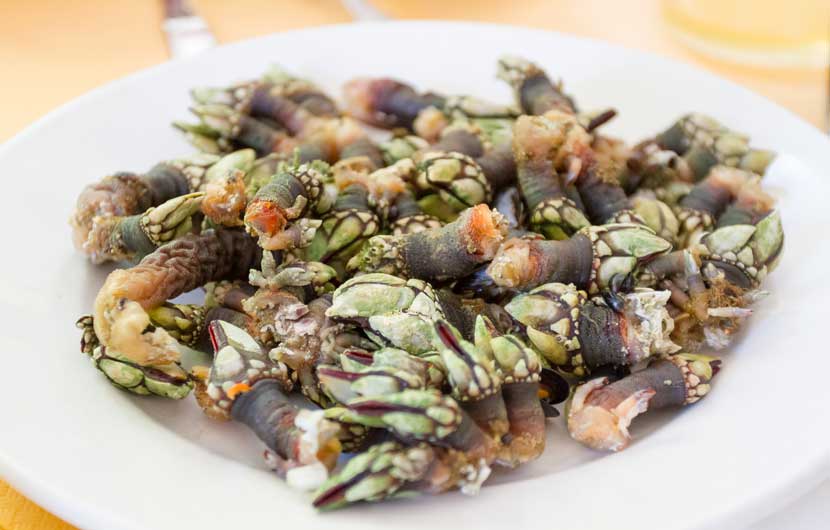 Percebes, aka goose barnacles in English, are a delicacy in Spain – and a quite expensive dish. Fishermen risk their lives to harvest them from the shoreline, as it's an incredibly dangerous task. However, if you're willing to 'shell out' for these crustaceans, it's worth it.
Their taste is so intense, most chefs simply boil them in sea water for a few minutes, without any seasoning. Twist the barnacle apart and then suck out the orangey-brown flesh within. It tastes like a combination of crab, shrimp and oyster – why not make up your own mind, and let us know?
Pig's ears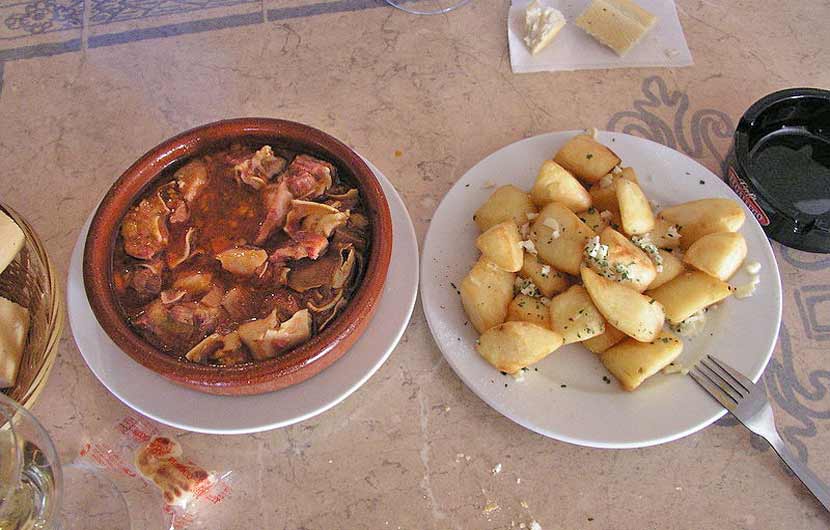 The Spanish don't just cook with pig's blood – they also love to eat pig's ears! They're definitely an acquired taste, so if you're an experimental eater, you should love these pan-fried snacks. The taste is unmistakably pork-like, and most people flavour them with salt and paprika.
The texture is what many people find challenging; you're effectively chomping on cartilage (this is the grisly material your own ears are made from). The cartilage is sandwiched between two layers of fat, and the skin on top may still have hairs on it – so make sure you're feeling confident.
Migas de Almeria
By Olea  from Wikimedia Commons
Admittedly, breadcrumbs are a fairly common UK staple, but they're served as a tasty starter or snack in Spain. Stale bread is crumbled, then soaked with oil, seasoned, and gently roasted. They're traditionally eaten with garlic, oil, pepper and grapes, but you can make a more substantial meal by adding a fried egg or some chorizo.
Octopus - Pulpo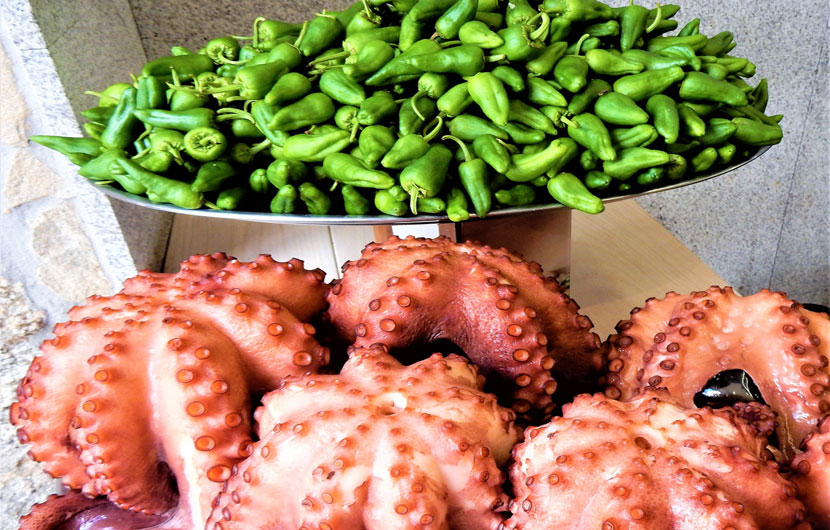 This innocent-sounding dish is actually cooked octopus tentacles; if you love seafood, you'll find this rubbery, salty dish rather moreish. Galicia is the best place in Spain to feast on octopus; 'pulperias' are the most common kind of restaurant.
Chefs boil the octopuses whole and then snip their tentacles into bite-size medallions. A liberal dollop of olive oil, salt and paprika is added, and they're served with fresh bread (and hopefully wine). The meat itself is great – it's tender, moist and a little bit like a mix between chicken and calamari. If you don't like the oily consistency of boiled octopus, look out for pulpo a la brasa, which is a grilled dish. It's got all of the flavour, without the stomach-churning gooeyness.
Callos

By Javier Lastras -  via Wikimedia Commons
Callos is a hearty, warming stew, made with veal tripe. Before you insist it's not for you, bear in mind that this is a hugely-popular dish, and the meat is cooked to perfection in a tomato and chickpea sauce. It's typically thought to be a dish that came from Madrid, but you can find it in bars and restaurants all over the country.
The locals love this inexpensive dish – despite its simplicity, it's still well-respected and hugely popular. If you'd like to try it in Madrid, it's worth asking around to see where the best callos is served.
Catalan Calçots
Love onions? Make sure that you give calçots a go. They taste milder than onions, but the way that you eat them is a little showier. They're grilled over a fire and wrapped in newspaper, then dipped into an accompanying romesco sauce. The saucy onion is then held up in the air before you lower it slowly into your mouth,  comer bien!
Blood crepes
Crepes  (or  pancakes, if you prefer) are quite typical around Spain, usually found in the northwest, they tend to be a rich, golden yellow in colour, and they're normally eaten with cream and sugar.
A different take on the normal pancakes are blood crepes make an appearance in the autumn, when traditionally local farmers slaughter their pigs. Milk is replaced with pig's blood, and the resulting dark brown crepe is flavoursome, rich, and undeniably different. These crepes are regarded as a regional delicacy, so if you're offered one, take the plunge and try them.