Where To Find The Best Beaches in Spain
Spain has more blue flag beaches than any other country in Europe
Spain has around 5,000 kilometers of varied coastline, so whichever coast you decide to enjoy your holidays you can be sure there will be a perfect beach for you to enjoy.
There are currently 566 blue flag beaches, that's one in every five beaches in Spain. The Blue Flag uses numerous criteria before awarding a beach blue flag status, these include location, water quality, life-saving services, public toilets,sign-posting, distance to parking, distance to hotels, sustainable management, recycling bins and water sports activities.
Around five Spanish beaches are regularly ranked in the top 25 beaches in Europe and they are still one of the top reasons for visiting Spain.
By definition, a great beach is one that gets you hooked and makes you hate the idea of leaving when your holiday is over, the kind of beach that wants you to revisit even before your holiday tan has faded.
Family beach holidays are where some of the best moments and memories are made and there are more than enough beaches in Spain to suit every family member's tastes.
And for an unforgettable beach getaway how about a holiday beach villa overlooking one of Spain's gorgeous beaches, or how about a hotel sat right next to the Meditteranean sea.
Check out our list of the 36 best beaches in Spain.
The Best Beaches in Spain For 2021
Cala de Algaiarens  -  Menorca

Playa de Illetes  -  Formentera

El Cofete Beach  -  Fuerteventura

Playas de Denia  -  Alicante

Alcudia Beach  - Mallorca

Andrin Beach  - Asturias

Cala n Porter  - Menorca

Cala Fornels Paguera  - Mallorca

Cala Galdana Beach  - Menorca

Cala Macarelle & Cala Macarelleta  - Menorca

Cathedrals Beach  - Galicia

La Concha Beach  - San Sebastian

13. Islas Cies  -  Pontevedra

Cala Agulla  - Mallorca

Platja de Comte  - Mallorca

Cala Morell  - Menorca

Rias Baixas  - Galicia

El Duque Beach  - Tenerife

Playas de Barbate -  Cadiz

20. Beach de Levante  -  Benidorm

La Vega Beach -  Asturias

Platja Llarga  - Salou

Cabopino Beach - Marbella

Portinatx Beach  - Ibiza

Cala Pi  - Mallorca

Las Teresitas -Tenerife

Playa de Llagosteira  - La Coruna

Chipiona  -  Cadiz

Playa de Mazagon  - Huelva

 San Vicente de la Barquera  - Cantabria

Calita de Banyalbufar  - Mallorca

Xivares  - Asturias

S'Alga Beach  - Formentera

Las Conchas  - Lanzarote

Es Caragol - Mallorca

El Sablon Beach  - Asturias
 1. Cala de Algaiarens – Menorca
One of the best reasons to visit  Menorca is to swim in one of the many coves ( Calas ) this attractive little Island has to offer.
Quite a lot of them are only accessible via the sea and there position only given away by the yachts and small craft anchored slightly offshore around them.
Algaiarens is made up to two large beaches, Platja des Bot and Platja es Tancats, which is the largest one. Both are located within a rocky bay and are probably the most protected beaches on the north of the Island.
Cala de Algaiarens has soft fine-grained sand with shallow waters, both are child friendly.
Driving around the island of Menorca is a great way to explore these gems and the awesome beach in Cala de Algaiarens is a must to visit.
2. Playa de Illetes – Formentera
The stunning beach at Illetas is located on the northern tip of Formentera, part of the Balearic Islands. You could be forgiven in thinking you were on a remote Caribbean island when you're lounging on the beach at Illetas.
This beach is probably the most visited by tourist and locals alike so can get a little busy at peak times during the year.
The general area is easily accessible by any vehicle although due to the terrain some parts are only accessible by walking or Bike.
There are restaurants, kiosks and sunbeds to rent.
3. El Cofete Beach – Pajara – Fuerteventura
The Cofete beach is located within the Jandia natural park withing the Pajare municipality to the south of the Canary Island of Fuerteventura.  If you are looking for a very peaceful out of the way beach, Cofete is for you.
The landscape is amazing as it is surrounded by the impressive Jandia mountains. Cofete is simply stunning, with golden clean sands and crystalline waters. It can be windy though, hence another superb windsurfing destination.
The beach is not easily accessed hence you are guaranteed there will be very few other people around, naturism is accepted here due to its very private location.
Cofete has strong waves so great care should be taken when bathing and there are no facilities as such so go prepared.
4.Playas de Denia – Alicante
There are numerous beaches located along the Alicante and Denia coastline, the best include Les Marines, Les Deveses and the Les Rotes Beaches.
Les Marines is about 2 kms long with fine sand.
Les Rotes is located to the South of Denia and is noted for its natural beauty.
Les Deveses is the largest beach in the area at around 4 kms long, it has fine golden sand with a normally calm surge.  It is prone to get windy at times and therefore a firm favourite with the windsurfing community.
5. Alcudia beach Mallorca
Alcudia beach is located within a large cove on the northeastern tip of Mallorca.
Shallow clear warm waters with a high sand quality make this a popular beach on the Island.
Great for young children as the large horseshoe-shaped bay offers protection and calmer waters for bathers.
6. Andrin Beach Asturias
Playa Andrin is one of a series of outstanding beaches located in the province of Asturias in Northern Spain.
The beach is often voted one of the best in Europe, located in beautiful surroundings, it is a firm favorite with surfers as the waves can be quite strong off the Atlantic Ocean.
Sun worshipers will love the quality of the golden sand.
7. Cala n Porter Menorca
Cala n Porter is located on the south of the Island of Menorca and one of the nicest in the area.
As with a lot of coves on the Balearic Islands, Cala n Porter is situated within a protected bay area and offers high-quality sand and clear waters.
The sea is ideal for snorkeling and safe swimming and there are more than enough bars and restaurants located close to the beach to enjoy a nice meal between your sunbathing and beach activities.
8. Cala Fornels Paguera Mallorca
Cala Fornells is another popular cove beach area located on the Balearic Island of Mallorca.
Situated some 40 kilometers from Palma airport. Calm clear waters of the bay make this ideal for swimming, sunbathing and water sports in safe environment.
9. Cala Galdana Beach Menorca

Cala Galdana is located on the western end of the south coast of Menorca just 10km from the town of Ferreries.
This much-loved beauty spot attracts many visitors each year who love the soft white sandy beaches, the protected bay area and crystal clear waters, perfect for bathing.
10. Cala Macarelle & Cala Macarelleta Menorca

Cala Macarella and Cala Macarelleta and two of the most picturesque and photographed beaches located in the south of the island of Menorca.
Surrounded by high cliffs and a pine forest and crystal clear turquoise coloured waters both these Calas are simply stunning.
Although off the beaten track and not so easy to get at they are amongst the most popular beaches to visit specifically during the hot sunny months of July and August.
11. Cathedrals Beach Galicia
Cathedrals beach is one of the most visited beaches located on the northern coastline of Galicia.
This stunning beach with the official name of Praia de Augas Santas which translates to the beach of the holy waters.
If you pan to visit northern Spain then this is one beach you should add to your holiday itinerary.
12. La Concha Beach San Sebastian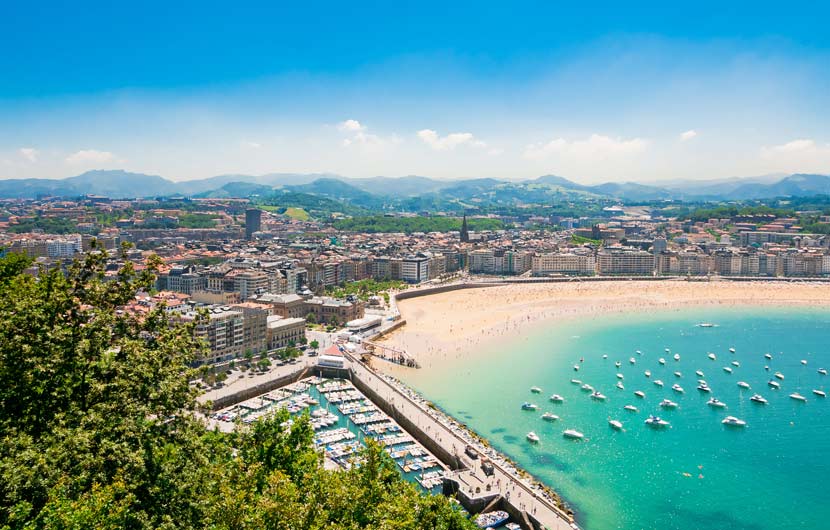 La Concha ( the shell-shaped ) beach located in the famously stylish coastal city of San Sebastian in northern Spain.
If you are looking to experience an authentic  Spanish seaside resort then La Concha is a must place to visit.
The long promenade is lined by colonial properties, historic sites, hotels and lots of great tapas bars and restaurants.
13. Islas Cies – Pontevedra
Absolutely stunning is the only way to describe the beaches around Las Islas Cies.
An archipelago of three islands off the coast of Pontevedra in Galicia, there were declared a natural park in 1980.
The Cies archipelago consists of three islands, Monteagudo, known as "Sharp Mount" to the North, do Faro, known as the "Lighthouse Island" or "Isla do Medio" , the Middle Island and San Martino, also known as "Saint Martin" and is the Southernmost Island.
The main beaches are the Playa de Rodas, Playa de Figueiras or de los Alemanes, Playa de San Martino, Playas de Cantareira, Margaridas, Playas de Mixueiro, Areina Playas de los Bolos and Nuestra Senora, Nuestra Senora and Carracido.
Natural beauty, clean sands and crystalline waters make sure every outgoing visitor has a hunger to return another day.
14. Cala Agulla Mallorca
Cala Angulla is one of the best beaches in Spain, located on the eastern side of the Balearic Island of Mallorca.
Declared an area of great natural interest in 1991 Calla Angulla is a beautiful blue flag beach in an idyllic location surrounded by sweet-smelling pine forests and with the Llevant Natural Park as a backdrop.
The soft white sands and calm clean waters make this a perfect bathing beach for all the family. There a few water sports shops and enough local beach bars to enjoy.
15. Platja de Comte Mallorca
The Platja de Compte beach is another gem found on the western tip of Mallorca. Clean waters, beach sun beds and a perfect picturesque setting make this a popular beach with visitors.
16.Cala Morell Menorca
Cala Morell is located on the northwest of Menorca. A stunning cover surrounded by cliffs on each side with a selection of whitewashed Menorcan villas visitors are never disappointed when spending a day sunbathing and swimming.
Although the actual beach area is quite small the cove is surrounded by a walkway with jetties where you can place your sun lounger and enjoy diving into the crystal blue waters.
17. Rias Baixas Beaches Galicia
The beaches of the Rias Baixas are located on the western coastline of Galicia.
The beaches can be found within the clear water estuaries and include the towns of O'Grove, Sanxenso, Cambados, Portonovo,  Arousa and Marin.
Although quite chilly the waters are perfect to cool off during the hot summer months.
18. El Duque Beach Tenerife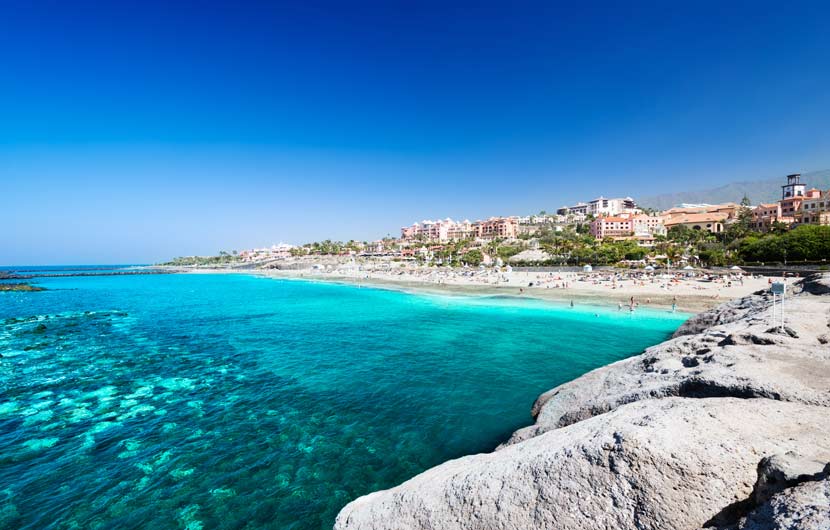 El Duque beach is located on the southern coastline of Tenerife close to the popular holiday resorts of Los Cristianos and Adeje.
With grey fine sandy beaches El Duque is one of the most popular Blue Flag beaches in Tenerife.
19. Playas de Barbate – Cadiz
Barbate is located on the southern coastline of mainland Spain on the Costa de la Luz and is home to some of the most stunning beaches in Spain.
The beaches around Barbate include the Mangueta beach, Hierbabuena, Zahora Ntra. Sra. del Carmen, Canillos,  Los Canos de Meca,  Pajares and the famous Zahara de los Atunes.
Most have long areas of fine white sand, sometimes a little windy but beautiful none the less.
These high-quality beaches are clean, peaceful and provide a welcome break away from the busy Costas.
Take our advice and make sure you put them all on your list the next time you visit this area of the Costa de la Luz.
20. Beach de Levante – Benidorm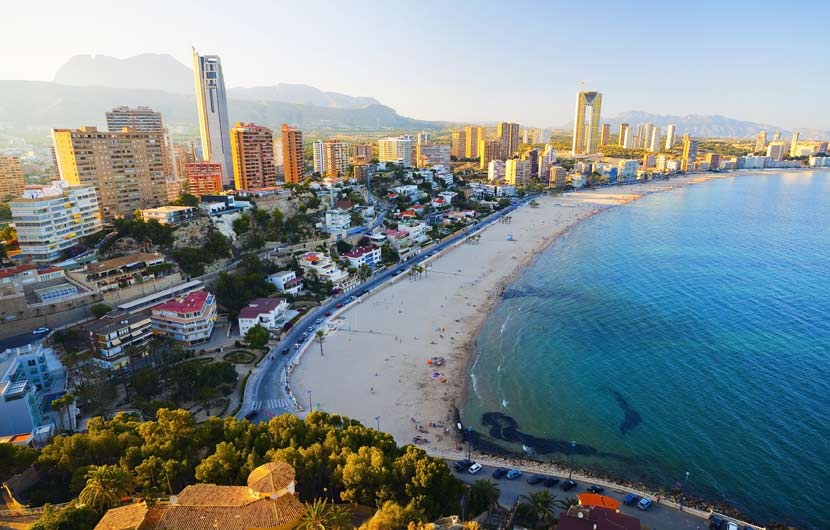 If your preference is quiet and isolated then perhaps the Platja de Llevant is not for you, however, it truly has a place in any Spanish beach guide.
This beach, located on the seafront of Benidorm, Spain's most popular holiday destination. It reflects everything that is good about a family orientated beach in Spain with it's six kms of clean golden sands.
You will find something for everyone here, thousands of sunbeds for rent, many restaurants, beach sports, special activities, security and first aid posts, children's activities and much more.
21. La Vega Beach Asturias
La Vega is a stunningly wild and natural beach located within the province of Oviedo in northern Spain.
For nature loves looking for an undeveloped beach this is the place for you. Long rolling waves off the Atlantic make this an ideal surfing and water sports destination.
The small hamlet of La Vega is about a 15-minute walk away  and there is a nice bar/restaurant to enjoy lunch overlooking the beach and countryside.
22. Platja Llarga Salou
Platja Larga is a semi-urban beach located by the Salou cape in the province of Tarragona in Catalonia.
A beautiful setting surrounded by pine forests,  Platja Llarga is an ideal beach to enjoy bathing and swimming, perfect for all the family.
23. Marbella - Costa del Sol
Marbella on the Costa del Sol has long been the playground of the rich and famous and there are a number of beaches around the town to enjoy.
There are around 24 beaches within the municipality, seven of those are current blue flag holders.
The most popular beaches include Playa Hermosa, Nikki Beach, Playa Real de Zaragoza, Rio Real, Fontanilla and Cabopino.
24. Portinatx Beach Ibiza

Portinatx is located on the northern tip of the Balearic Island of Ibiza. There are actually three beaches ion the close vicinity.
Portinatx is in a  superb location offering quiet seclusion on white sandy beaches with beautiful views over the bay.
25. Cala Pi Mallorca
Cala Pi de la Posada can be found on the northwestern tip of Mallorca and is a popular destination for the yachting elite to moor and pass the day swimming in the crystal clear waters close to the Pollenca Cape.
26. Beach Las Teresitas -Tenerife
Las Terasitas beach is located on the northeastern coastline of Tenerife,  some 15 minutes drive north of Santa Cruz de Tenerife.
The sand is soft and light gold in colour, it was imported from the Sahara which was used to cover up the black volcanic sand of the Island.
It is an excellent family beach especially for the children as there is a breakwater some meters offshore which makes it ideal for bathing as the seas are calm and shallow close to the beach.
27. Playa de Llagosteira – La Coruna
By Ángela Llamas [ Wikimedia]
Playa de Langosteira beach is situated at the entrance to Cape Fisterra in the province of Galicia boasting a stunning beach around three kilometers in length.
The water is crystalline and tranquil.
There is an oddity as there is an old run aground cruise liner just of the northern part of the beach called the " Cruz de Baixer".  
Amenities include disabled access, bars restaurants. The area is renowned for its rich diversity of seafood always on offer at numerous eateries near the beach.
28. Chipiona – Cadiz
The beaches located around Chipiona on the Costa de la Luz are all proud holders of the Blue Flag and have been the most sort after summer location for the Sevillanos ( residents from Seville ) for many a generation.
The beaches include the Playa Cruz del Mar, Playa Las Canteras and Playa La Regla.
There is a family-friendly Spanish atmosphere around the town and its beaches.
Enjoy the Sardines roasting over the open fires set by the beach bars and restaurants and other fine fresh seafood on offer, especially the delicate taste of the famous Gambas Blancas  ( white prawns ) caught close by in the warm and clean waters off the Cadiz coast.
29. Playa de Mazagon – Huelva

By José Luis Filpo Cabana [GFDL or CC BY-SA 4.0], from Wikimedia Commons
The Playas de Mazagon are  firm favourite for all beach lovers staying near Huelva located in Andalucía's beautiful southern coastline.
There are 3 main beaches near Mazagon, Playa de Mazagon, Playa de Las Dunes and Playa de Alcor.
The Playa de Mazagon is the most urban close to the marina, the Playa de la Dunes is westward to the town and usually quieter, the later Playa de Alcor is even more Westward to the town and although quite a walk from Mazagon town centre. A pristine beach backed by sand dunes and pine woods.
The impressive Mazagon beaches offer around 36 kms of clean golden and are the pride of the Costa de la Luz in southern Spain.
30. San Vicente de la Barquera – Cantabria

By Spinor69 [CC BY-SA 4.0], from Wikimedia Commons
San Vicente de la Barquera in northern Spain offers some naturally beautiful beaches around its coastline, they include  Playa de Meron and Playa Rosal,  Playa de Somo, Playa de Puntal, Playas de Llangre, Playa de Sonabia, Playa de Berria and Playa de Valdearenas.
Close though to San Vicente is the Playa de Merón, a semi-urban beach with fine white sand.
Playa de la Maza, this is a smaller beach situated just before the entrance to San Vicente, it offers fine golden sand and calm seas.
Playa de la Fuente, another smaller quiet beach with golden sands.
31. Calita de Banyalbufar – Mallorca

By Altabo [GFDL or CC BY 3.0], from Wikimedia Commons
The small village of Banyalbufar is situated on the west coast of Mallorca, near to the mountain range Serra de Tramuntana. The beach is long and narrow in a small bay surrounded by cliffs and trees.
Part of it is large stones while the rest of gravel. It is possible to lay down on a towel and the view from the beach is amazing. To some, this may not sound an ideal beach but when you are sat on its gentle slopes by fantastic crystal clear waters and beautiful scenery you will understand why this unique place is on our list of best beaches in Spain.
Parking is free and is close to the beach. Unfortunately, it is not child friendly and is more suited to adults.
The bay is ideal for diving and snorkeling. There are no restaurants or beach bars.
32. Xivares – Asturias

By Adolfobrigido [CC BY-SA 4.0], from Wikimedia Commons
The Xivares beach sums up everything that is Asturian, wild natural beauty, rugged coastline and freshness that you would expect in part of Spain. It can be quite windy of course with a medium sea surge with sometimes strong currents that can be dangerous  so please pay attention to the warning flags.
33. S'Alga Beach – Formentera

By Vriullop [CC BY-SA 3.0], from Wikimedia Commons
You will be forgiven in thinking you are on a Caribbean Island when you visit S'alga Beach as it boasts fine white sand, calm clean waters and breathtakingly natural beauty.
S'alga is a stunning beach in an ideal location to the south of the S'Espalmador Island of Formentera.
34. Las Conchas – Teguise – Lanzarote

By Gonzalo Serrano Espada [CC BY-SA 3.0], from Wikimedia Commons
Las Conchos beach is located to the south of the Canary Island of Lanzarote.
It is isolated and rustic and prone to strong winds and a high sea surge so take your surfboard.
A trip to Lanzarote would not be the same without spending time on this superb beach.
35. Es Caragol – Santanyi – Mallorca

By Olaf Tausch [GFDL or CC-BY-SA-3.0], from Wikimedia Commons
Es Caragol beach is one of the finest beaches on the Mallorcan coastline. Fantastic fine white sand, isolated, quiet with clean calm waters.
This is a beach lovers' dream. It must be said though that it does not offer facilities such as toilets, wheelchair access. first aid or water sports.
Despite that, it still has a place on our best beach list due to the incredible overall quality of the beach, sand and location.
36. Playon de Bayas – El Sablon Beach Asturias

Wiki Commons - Alfonso Fernandez
Playa de Bayas also known as El Sablon beach is one of the best beaches located in the province of Asturias.
The beach is surrounded by natural forest along the whole length of this beautiful beach, Playa de Bayas is also of great ecological interest with many species of plants found in this area.
The sand is dark and golden and joins up with Los Quebrantos beach to form almost 3 kilometres of pristine beach.
The amenities include showers, lifeguards, surfing and parking, it is easily accessed by foot or in car.