If you love the Spanish culture and it's vibrant and healthy gastronomy, and would like to learn more, then what better way to learn more than taking part in a planned cooking holiday in Spain.
There are now a whole host of cooking schools in Spain run by Michelin starred chefs to home based cooks, each one only to willing to share their unique family recipes with visitors eager to learn the secrets of Spanish cuisine.
Cooking classes in Barcelona are very popular although classes are available throughout Spain from Madrid and Andalucia and to the gastronomic haven that is the Basque country in northern Spain.
There are a number of smaller independently run home based cooks offering Spanish cooking classes, many in authentic rural locations where you can really immerse yourself in the local life and culture whilst learning to cook famous Spanish recipes.
1. Cooking with Nuria from A La Taula Catalonia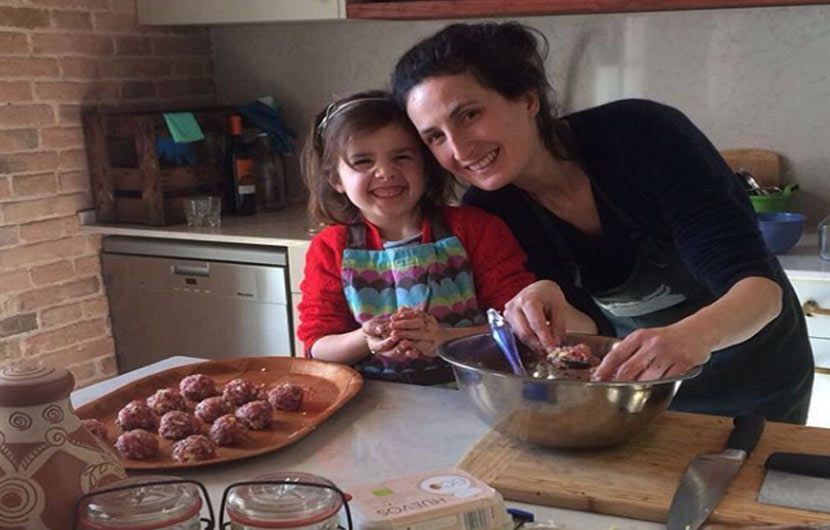 Nuria offers cooking classes at her home in Barcelona, which offers a spacious renovated kitchen full of the typical architectural details of a 19th century Barcelona apartment building.
She grew up in Barcelona with a family that had a passion for food. Her mother made wonderful meals every day and she also spent much of their time traveling around Catalonia to try different restaurants.
Later she lived in New York City for many years where she received a health-supportive culinary education at the Natural Gourmet Institute. Nuria spent some time in New York working as a cook at Gramercy Tavern, then as a personal chef for a family, and finally as a cooking instructor, it was at that time she decided she wanted to teach the food from her home region of Catalonia and moved back to Spain with her husband and daughter.
With the Catalan expression "a la taula" (time to eat!) as the name of her cooking classes, she revives the memories of her mother calling her family when the meals were ready to eat. And with this expression, she invites her students to enjoy a delicious homemade meal in a warm and cozy environment. The students prepare the meal with lots of guidance from her, learning plenty of cooking tips and techniques typical in traditional Catalan cooking.
Nuria now runs popular half-day cookery classes, during which the main meal is prepared, 2 fresh market tapas dishes and a dessert. The ingredients used are always high-quality, seasonal, fresh, local and organic whenever possible.  Nuria shares her favorite family recipes, which have been tweaked with her own special touch.
Her cookery classes are usually for small groups (maximum of 7 people) as well as private classes, both with the option of a tour in a local market.  Students of all cooking levels and ages are welcome as Nuria ensures everybody is engaged in a fun and friendly environment. Students with different dietary requirements are also catered for, Nuria adapts perfectly her unique dishes whilst making sure they get the full taste of Catalan flavors.
A La Taula is perfect if you are looking to learn about traditional Catalan home cooking whilst enjoying an authentic local experience, plus you get to take away some of her delicious homely recipes to make for your friends and family.
Please check her website for more information: www.alataula.com
2. Home cooking with Lynsey at La Rosilla
Lynsey is the founder of La Rosilla, a beautiful rustic farm house located in the heart of Andalucia. She now offers home based cooking classes, event catering and rural B&B accommodation set within a mountainside Villa.
Lynsey left the corporate world behind some 12 years ago and relocated to the tiny village of 'Solano' within the breath-taking 'Montes de Malaga', a mountain range set behind the city of Malaga in Andalucia southern Spain.
Lynsey came to Spain with hubby, three children and her dog, in search of new challenges that would fulfill her passion for food, wine and the unique culture of Spain.
La Rosilla was created and is now set within a rustic traditional 'finca' farmhouse. It sits on it's own mountainside with spectacular views alongside almond and olive groves.
The enviable climate of the Malaga region allows for all year round local and homegrown produce to cook with. These varied ingredients now form a major part of Lynsey's recipes which she enthusiastically passes onto her cookery students.
La Rosilla is now foodie heaven and where here renowned cooking classes take place. Foodies come to enjoy the learn how to cook traditional recipes in picturesque surroundings. The warm evenings are spent sat on the charming terrace under the grapevines.
If you are looking for home-based cooking classes and a rural setting in Spain then La Rosilla is for you. Here you will learn how to cook some of Lynsey's unique recipes whilst soaking up the special atmosphere of Andalucia.
At La Rosilla you will breathe in the fresh mountain air, enjoy a place at the family table and leave as friends.
Please check her website for more information: larosilla-catering.com
3. B's Cooking Classes in Andalucia
Annie B ran her own successful catering and corporate hospitality company in London for over 15 years before succumbing to the charms of Vejer de la Frontera in Andalucia, which is where her award-winning home cooking classes are now based.
Annie is passionate about food, wine and the Spanish culture offering tours and cookery classes from her home 'Casa Aalegre' in Vejer.  Her traditional home was completely refurbished in 2003 transforming a centuries-old Andalucian patio home for five families into the stunning residence it is today.
The azotea (roof terrace) is where everyone gathers to relax, have a pre-lunch or dinner drink and enjoy the spectacular 270-degree views over Vejer and the Straits of Gibraltar towards North Africa.
Annie specialises in cookery classes that maximise taste with the minimum of fuss whilst celebrating all aspects of the country that originally drew her to Andalucia.  Annie was honoured by the town of Vejer in September 2013 as a "Vejeriaga de Adopcion" in recognition for the attention she has brought to local gastronomy.
If you would like to join in one of Annie B's cooking classes or see what her Spanish Kitchen is all about visit her website at anniebspain.com
4. Cookery Courses at Finca Buen Vino
Jeannie and Charlie Chesterton are the owners of Finca Buen Vino, a traditional Spanish country house located close to the picturesque village of Aracena in Andalucia southern Spain.
The finca is a perfect place to learn about the famous 'Jabugo' cured ham, local wines and typical Andalucía dishes,  all in a relaxed and friendly setting.
Jeannie and Charlie offer several cookery classes throughout the year for small groups of 4 to 8 persons. Their classes are fun and a perfect way to spend time with friends whilst learning about the local gastronomy and Andalucian culture.
The farmhouse boasts a beautiful location in the heart of the 'Jabugo D.O' area, famed for its high-quality black foot cure ham, regarded by many as the best in Spain. Visitors get to visit the village of Jabugo itself and explore the impressive curing cellars of the renowned 5 J's brand plus learn about its history and production.
Students of the cookery classes at Finca Buen Vino get to learn about traditional southern Spanish recipes with it's French, Italian and Arabic influences.  Jeannie and Charlie also allow students to chose the dishes they wish to cook from a selection of recipes from their own cookery book.
Recipes include 'Spinach and Chickpeas with Cumin', 'Butter Beans and Clams with Tomato", 'Iced Garlic and Almond Soup'. There are also hearty roasts, 'cocidos' and winter game dishes of winter, and the light cold soups of summer.  You will also learn how to use a 'picada' of ground and roast nuts, spices and bread fried in olive oil for thickening stews. Fruit is used in savoury meat dishes such as 'Rabbit with Apricots and Spinach and Pinenuts' or 'Quails with Quinces.
Not forgetting the traditional Paella dish using less well known 'Black Rice' made from squid ink. And for those with a sweet tooth, there are a few indulging desserts to prepare such as 'Panna Cotta with Saffron', 'Rosemary Sorbet', or 'Cardamom and Honey Ice cream'.
For more information please visit the Finca Buenvino website.
5. The Paella Club - Barcelona
An ultimate Spanish cooking experience where you aren't made to feel like a tourist.
Ask people from around the world to name one Spanish dish and 9 times out of 10 they will answer "Paella".  It is not hard to see why this versatile dish and iconic presentation has achieved international gastronomic recognition.
At the Paella Club you can learn how to create a perfect Paella as well as the secrets behind Spanish cuisine.
The Paella Club is located in the El Raval neighbourhood of Barcelona just a stones throw from the famous La Boqueria food market. It is the brainchild of well-travelled chef, Alex Betolaza, who hails from the renowned gastronomic Basque region in northern Spain.
Alex's travels have taken him to London, LA and Miami where he worked in numerous trendy restaurants. He noticed that when people knew he was Spanish they always wanted to know the secrets to cooking a perfect Paella dish, this is where the idea was nurtured and the Paella Club was formed.
Alex is aptly accompanied by award-winning executive chef, Alex Villar. Originally from Canada,  Alex combines his Mexican and Spanish roots to create his signature spin on classic Mediterranean cuisine.  He has worked in many top restaurants, most notably the world-famous Noma restaurant in Denmark.
The Paella Club offers a gastronomic education that links tradition with modern whilst maintaining an environmentally conscious approach, no food goes to waste as they donate any left overs to local neighbourhood food-pantries and the needy population.
Cooking classes at the Paella Club engage foodies from across the globe in a fun and exciting way with plenty of laughter over a warm stove. Their moto is that they treat their students as friends rather than simply passing tourist, and they do that very well.
Please check out the Paella Club website for more information: thepaellaclub.com
6. Taste of Spain Cooking Classes
Created in 1999, A Taste of Spain is a local travel agency specialized in organizing private culinary tours and activities across Spain for international foodie travelers and food professionals.
A Taste of Spain offers interesting private hands-on cooking classes, organized specifically to meet your preferences and cooking skills. Most of their cooking classes start with a guided visit to a local food market for seasonal products, this is where the tour gets active and fun. You can ask questions to your expert cookery teachers and chat in a friendly laid-back atmosphere.
Their cooking classes offer the added bonus of being held at some very special venues, such as a members-only Basque Gastronomic Society, a penthouse with magnificent views, a delightful beach house by the Mediterranean, a wonderful rustic kitchen in a country home, a cozy professional kitchen and within a prestigious local cooking school.
The cooking classes are available in Madrid, San Sebastian, Barcelona, Costa Brava, Valencia, Seville, Marbella, Cádiz (Vejer) and Santiago de Compostela (Galicia) so you will never be far away from joining in one of their exciting culinary experiences.
Please check her website for more information: https://www.atasteofspain.com/
Cookery Classes Spain - Book in Advance