July is another busy month in Spain for festival and fiestas, so which one to choose.  The weather generally is great all over Spain during July which make the days and late nights extremely pleasant. The Basque country is home to one of the most well known festivals of all, the San Fermines held in Pamplona, where running  with the bulls offers the ultimate adrenaline kick.  Other key festivals  July festivals in Spain  include the International Music and Dance Festival, the guitar festival in Cordoba and many more.
The San Fermines Festival Pamplona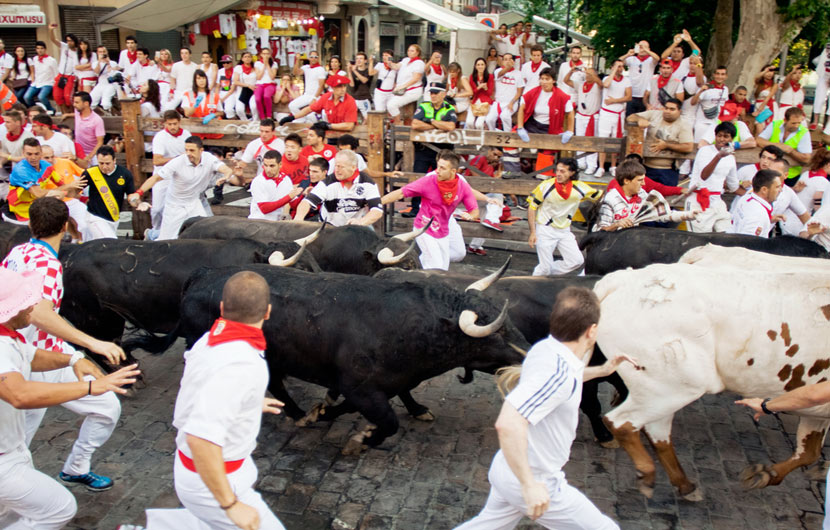 Come to Pamplona and share in eight days of fun, where every morning, six bulls chase a pack of locals and visitors along the streets of the city leading up to the Pamplona bull ring. Eating good food, drinking copious amounts of ale, and dancing in the city streets takes up much of the time left. Then Pamplona  running with the bulls  festival now ranks among the best known festivals which is now attended by visitors from all over the world.
International Jazz Festival at Getxo – Varibale dates in late July
The Biscayan town of Getxo hosts numerous concerts during the the month of July. Here  Jazz lovers from all over the world congregate in the town to enjoy live music.  The town's main open areas are converted into staging areas to host the concerts as well as the competition stages of the festivals.
The International Jazz Festival in Getxo  hosts some of the top jazz artists  to be sure to check the schedule as there are many concerts on offer throughout the month.
International Music and Dance Festival in Granada – Variable dates
Every July Granada welcomes visitors to enjoy the cities cultural, historical and gastronomic delights.
Visitors are treated to the sounds of the local folklore music and dance while at the same time enjoying the beautiful environment around Granada's main historical sites including the stunning Alhambra Palace with its picturesque centennial gardens.
This fused combination of great music and historical ambiance has made the International Music and Dance Festival in Granada one of the largest of its kind in Spain.
Cordoba's Guitar Festival – Variable dates
If you love music the Cordoba guitar is must visit festival for you, held in Cordoba for the past 33 years it features a large selection of Flamenco artists, ancient, modern and jazz musicians, dancers and groups. Shows take place all over the city including such historic and illustrious venues including  the Grand Theatre, the Castle of the Christian Monarchs, Plaza Capuchinos, the Corredera Square, the Royal Stables, the Congress Palace, the Potro Inn or the Plaza de Tierra Andaluza.  The Cordoba guitar festival  is one of the cultural highlights of the year in Cordoba becoming increasingly popular in the last 10 years.
Festival Calendar for July
Variable Dates – – Estepona, Fuengirola,  Alicante –  Virgen  del Carmen: Annual feast of the fishermen when the waters are blessed and
the Virgen is carried to sea in a procession.
25th July  –  Galicia – San Santiago – The feast of St James. Public holiday in Galicia
First week July  – San Lorenzo –  Galicia –  Rapa das Bestas –  capture and branding of wild horses from the hills attracts
equestrian lovers from all over Europe
Variable Dates – Pamplona –  Running of the bulls – one of the most popular and internationally recognised events in Spain where bulls are released into the streets – lots of other events also take place in what are known as the Fiestas de San Fermin
Last week in July – Benidorm –  Song Festival
Variable Dates – –  Antequera –  Feria de Santiago
Festival Tours - Book in Advance
Your festival experience starts here
Book your 
festival tickets, accommodation, transfers and extras

 in just a few clicks

Sensation Spain
Caravan Sur
Fort Festival
AM Fest
Calella Rock Fest
Bilbao BBK Live
Azkena Rock Festival
Akubierto
Full Metal Holiday
BIME Live
Monkey Week
The top festivals and fiestas by month
Public holiday calendar in Spain
Jan 1st -  New Years Day - Ano Nuevo
Jan 6th - 12th night, The Three Kings  - Dia de los Reyes
Mar 19th - Fathers Day - San Jose
Variable - Good Friday - Viernes Santo
May 1st - Labour Day - Dia del Trabajador
Aug 15th -  Assumption - Dia del Asuncion
Oct 12th - Spanish National Day - Dia de la Hispanidad
Nov 1st -  All Saints Day - Todos los Santos
Dec 6th -  Constitution Day - Dia de la Constitucion<
Dec 8th -  Immaculate Conception - Imaculada Concepcion
Dec 25th - Christmas Day - Navidad